Meet Dr Isha Pandher, Dentist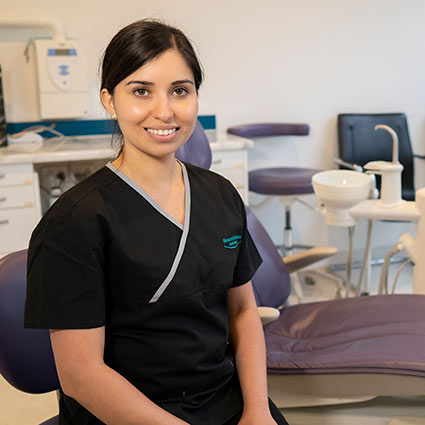 Dr Isha grew up in Victoria and later studied at La Trobe University in Bendigo, obtaining her Bachelor of Health Sciences in Dentistry as well as a Master of Dentistry in 2015.
She's overjoyed to be working with patients every day at Beecroft Smiles Dental Surgery, and takes pride in crafting unique care plans that bring excellent results to patients of all walks of life. She's extremely passionate about bringing her patients only the best possible care and treatments, and she is constantly continuing her own education with professional development courses. In addition to general and cosmetic dental work, she enjoys minimally invasive treatments as well as aesthetic procedures.
At Beecroft Smiles Dental Surgery, she hopes patients feel welcome in our calm, relaxing environment.
OUR SERVICES

Outside of the Practice
When she isn't working in the practice, she loves to travel, cook, and spend time with her family and friends. Now that she's a Sydney resident, she looks forward to spending more time at the beach.
Get to know more about Dr Isha when you visit her for your next appointment. She looks forward to welcoming you into the practice. Contact us today!

Dr Isha Pandher | (02) 8411 2314