Meet Dr Sharmila Wazir – Owner and Dentist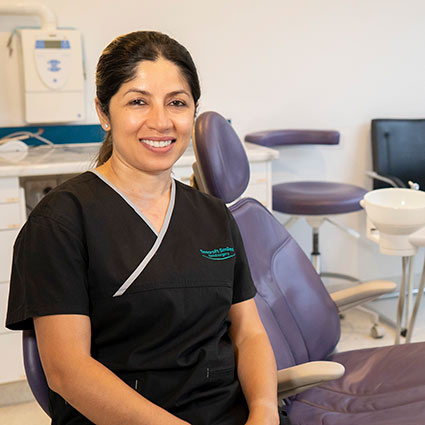 Dr Sharmila is the principal dentist and owner here at Beecroft Smiles Dental Surgery. She has practiced family and cosmetic dentistry over 22 years and has experience working with a diverse patient pool. Her goal to provide quality dental care to her local community brought her to own Beecroft Smiles Dental Surgery.
Dr Sharmila is passionate about preventative dentistry and early intervention, with keen interest in Restorative Dentistry, particularly cosmetic and minimally invasive treatments. She provides a comprehensive diagnosis to deliver the most therapeutic comfortable treatment.
She listens to her patients' concerns and needs, and is sensitive to each patient's individual requests. Her relaxed attitude and caring nature puts even the most nervous patients at ease. Her calm, gentle and caring manner has made her popular amongst all family members.
Her two young kids keep her busy along with her regular gym and yoga which form a part of her daily routine.
Dr Sharmila is a member of Australian Dental Association and Hills Dental Study Group.
OUR SERVICES

Book Your Visit
Get to know more about her when you book a visit with us–she can't wait to welcome you into the practice.

Dr Sharmila Wazir | (02) 8411 2314