Refer A Friend $50 Vouchers
Want To Save On Your Next Dental Visit?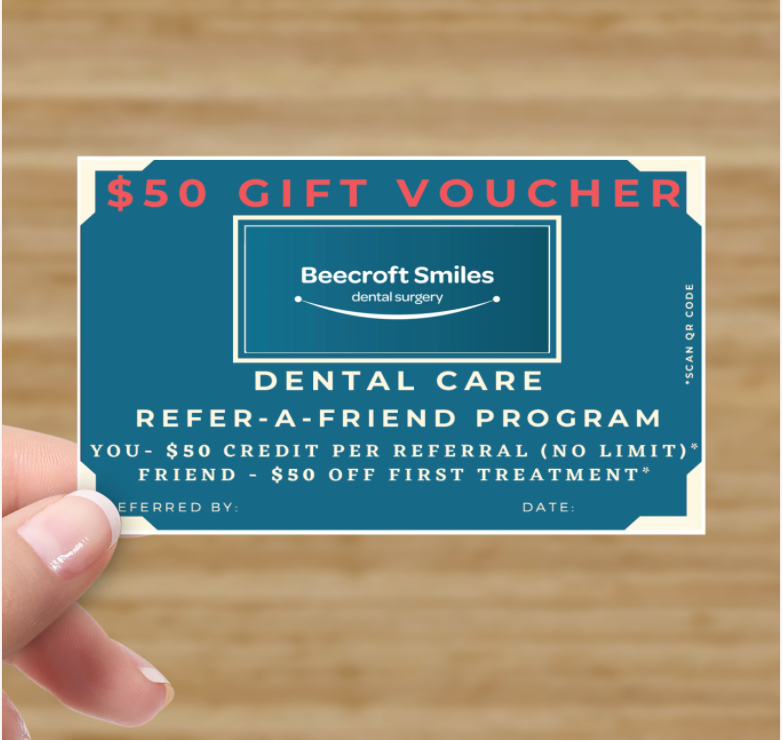 Refer a friend, family member or colleague and you can both receive $50 off your next appointment*.
All you need to do is refer someone who has never been to Beecroft Smiles Dental Surgery before and get them to mention that when they are making their first appointment (or be referred by one of our existing patients and mention that when you book in).
There is no limit to how many people you can refer, and therefore how many $50 vouchers you can receive! The only catch is that the person referred must attend their appointment in order for the referee to secure that $50 off voucher.
How Does It Work?
1. GRAB A REFERRAL CARD
Collect your referral cards from the front desk, and we'll put your name on it so that you can pass it onto someone you know will appreciate it.
2. GIVE IT TO SOMEONE IN NEED OF A GREAT DENTIST
Give the referral card to any friends and family members that care about their dental health (and who like to save money!).
3. BOTH GET $50 CREDIT TO YOUR NEXT TREATMENT
We will apply $50 credit onto both your account and their's when they present the referral card at their first appointment!
Example:
For a family of 4 that's referred to us (i.e. two adults and 2 kids) they will receive x $50 for each adult referred (i.e. anyone 18+), and the person that referred them will also receive 2 x $50 (i.e. $100) credit for use on their next visit. Note: Kids get 25% off at our clinic, so the $50 referral offer is valid for those aged 18+ only.
Schedule Your First Appointment
Would you like to book your first visit at Beecroft Smiles Dental Surgery? Contact our office now to schedule your consultation in Beecroft! Same-day visits and late opening hours are available for your convenience.
CONTACT US

*T&C's apply:
Referee must be a new patient aged 18+ and mention the referrer's name when booking their appointment.
Referee must attend their appointment in order for the referrer to secure $50 off their next appointment.
There is NO LIMIT on the number of people that can be referred and therefore the number of $50 vouchers you can receive.
Referrers can use their $50 off voucher at their next visit, with vouchers needing to be used within 12 months of issue. Referrers should mention that they will be using a voucher at the time of booking, and vouchers can only be used once. 
Voucher cannot be redeemed for cash, and any remaining balance will not be refunded.
The program is subject to change at the Practice discretion
$50  Off can not be used in conjunction with any other offers.
Refer A Friend Program Beecroft Smiles Dental Surgery | (02) 8411 2314