Cosmetic Dentistry
It's been said that a beautiful smile is the best accessory anyone can possess. We agree! That's why Beecroft Smiles Dental Surgery is pleased to offer Invisalign treatment and teeth whitening. Here's a look at each of these popular services and how they can give you the stunning smile you've always wanted.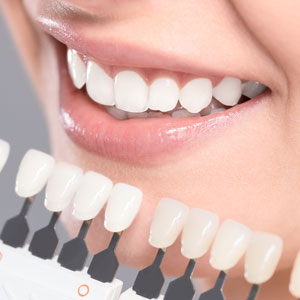 Teeth Whitening
Do your teeth appear dingy or tarnished, leaving you feeling too self-conscious to smile? Whether from drinking tea, coffee or wine, using tobacco products or even the aging process, teeth can become stained over time.
Fortunately, with contemporary teeth whitening solutions, you can achieve that dazzling smile you've always wanted. At our practice, we use Opalescence teeth whitening. We have two take-home whitening options that allow you to brighten your smile from the convenience of home.
Veneers
If you want a winning smile, one that covers up stained, chipped and worn out teeth, Beecroft Smiles Dental Surgery can help. Our team is proud to offer custom porcelain veneers to patients of all walks of life, designed to restore your smile quickly while offering beautiful results, a natural appearance and full function of your teeth.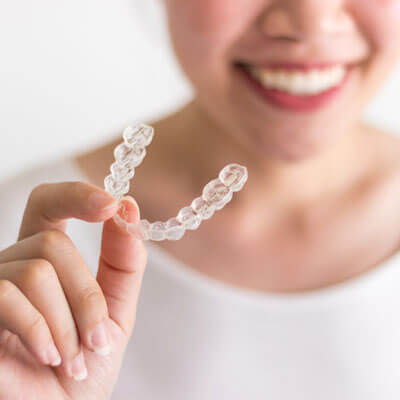 Invisalign Treatment
Maybe you wished you had gotten braces as a teen and want to straighten your smile now. The good news is you can do so inconspicuously thanks to Invisalign treatment. With this orthodontic system, you can get outstanding results without having to wear unsightly metal braces.
The Invisalign aligners are worn for 22 hours a day, and gently and comfortably nudge your teeth into the desired position. One of the primary benefits of Invisalign treatment is that the aligners are removable, allowing you to enjoy all your favourite foods. It also makes maintaining oral hygiene easy.
Aside from improving one's appearance, cosmetic dentistry can boost confidence and improve the function of your teeth. We view cosmetic dentistry as an excellent investment!
We accept Afterpay, which allows you to get Invisalign treatment now and pay for it over four equal fortnightly payments.
Am I a good candidate for teeth whitening?

Those who experience the most benefit from having their teeth whitened are in good health (physical and oral). They also maintain good dental health, such as brushing at least twice a day and flossing at least once daily. Ideal candidates also get regular checkups.
Are there any side effects to teeth whitening?

You may experience some minor sensitivity, but that's usually temporary.
What are the advantages of Invisalign treatment over traditional braces?

While both do an excellent job of straightening one's smile, Invisalign treatment uses smooth and comfortable aligners that are also practically invisible. Most people won't notice you're wearing the aligners unless you tell them. And because the aligners are removable, you can eat what you want without restriction.
Book a Consultation
Wondering how our cosmetic dentistry services can help you smile beautifully? Contact our Beecroft dental practice today to schedule a consultation.
CONTACT US

Cosmetic Dentistry Beecroft, West Pennant Hills and Cheltenham NSW | (02) 8411 2314