Implants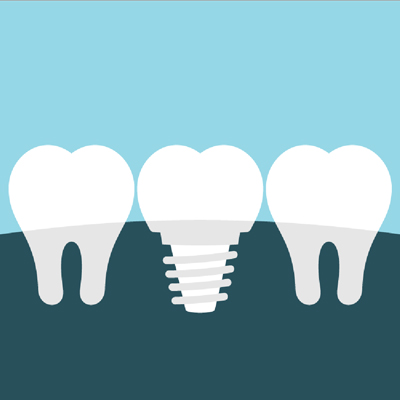 A beautiful smile exudes confidence, but if you have one or more missing teeth, smiling may be the last thing you feel like doing. While dentures can replace missing teeth, this solution isn't comfortable. Some people opt for bridges, but this relies on trimming the adjacent teeth, and the longevity and repairability of a bridge isn't ideal. While there are other procedures to replace missing teeth, dental implants can create a smile that is very natural and extremely durable. It's almost impossible to distinguish the implant from your existing teeth. At Beecroft Smiles Dental Surgery, we provide dental implants, a modern and long-lasting way to restore your smile.
What Is an Implant?
Implants are composed of a highly durable titanium screw and a post covered with a bridge, crown, or denture. Implants are ideal for replacing a single tooth, many teeth or an entire arch of teeth.
What to Expect
Scans and X ray are taken to aid in positioning the implant and to ensure you have plenty of healthy bone structure. If the bone is recessed or insufficient, there is still a possibility of a bone graft in order to make an implant viable. Implant is surgically placed in the jawbone, where it replaces the tooth root. Once that screw is in, we usually wait about 3-6 months, during this time you may wear a temporary crown. Once the implant is securely fused to the bone, the temporary crown is removed and a permanent crown is either cemented or screwed into place. The implant can be loaded with a single tooth, multiple teeth or an entire arch of teeth.
If you are missing all of your teeth and wear a full denture, it is still possible to use dental implants to restore your smile. A full arch of natural-looking teeth can be held in place on as little as four implants. These fit snugly to help make it feel comfortable and eliminate the need for daily removal and cleaning.
Benefits of Implants
Implants allow you to eat, speak and maintain an oral health regimen as if you had never lost a tooth in the first place. The result is virtually indistinguishable from your other teeth and in a very short space of time, it will likely feel completely normal.
FAQ
Do implants function like a natural tooth?
Yes, an implant is the closest thing you'll get to your natural tooth.
How do I take care of my implants?
You clean your implants exactly the way you'd clean your teeth. Brush twice a day and floss at least once a day.
It depends on how you take care of your implants. If you practice excellent oral hygiene habits and visit your dentist twice a year, your implants can last many years, if not a lifetime.
Is it painful to get implants?
When it's time to place your implant, we can provide
anaesthetic
so that you don't feel a thing and remain calm and comfortable the entire time. Implants are generally done while awake under local anesthetic but for those who are extremely anxious, they can get general anaesthetic. Most people are surprised afterwards by how little pain there is.
Book a Consultation
If you'd like to restore your smile with dental implants, contact us today to schedule a consultation with Dr Tejas (Dentist).
BOOK NOW

Implants Beecroft, West Pennant Hills and Cheltenham NSW | (02) 8411 2314